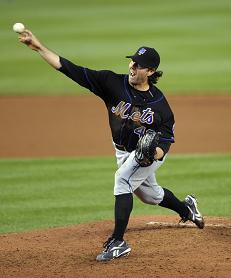 Something I hadn't noticed until Major League Baseball's tweeting logo told me about it: tonight, for the second straight game, the Phillies will be facing a knuckleballer. Sunday it was the Knuckle Knuckle King, tonight it will be R.A. Dickey.
Wakefield obviously disrupted the Phillies' offensive flow on Sunday, but (a) Dickey doesn't have the kind of knuckle-fu that Wakefield has; and (b) knuckleballs are one of those things that work nicely as, um, a changeup. If you saw it every day, however, you'd probably start teeing off on it — or walking 16 times a game — sooner rather than later.
Of course it's also possible that the Phillies will go nuts on it, swinging with great vengeance and furious anger and end up looking like the Gashouse Gorillas flailing ineffectually at Bugs Bunny's powerful, paralyzing, perfect pachydermous percussion pitch.
It'll be fun to watch, either way.