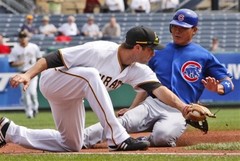 Poor Steve Pearce. The 27-year-old first baseman had seemingly rebounded from his very disappointing 2009 and was getting a shot at first base for the Pirates, at least on a part-time basis. However, he suffered a sprained ankle while making his ninth start Monday, requiring a DL trip.
That's opened the door for 2004 first-round pick Neil Walker. Walker, a converted catcher, has occasionally looked like a legitimate third base prospect through the years, but he was forced into a utility role in Triple-A this year by Pedro Alvarez.
The Pirates had him play 21 games at second, 14 in left field, seven at first and one at third base before calling him up Tuesday. Fortunately, all of the moving around hadn't taken a toll on his offense. He was hitting .321/.392/.560 with six homers in 189 at-bats. That's a vast improvement on his 694 and 791 OPSs from his first two years in Triple-A. He's also already matched his career high with 10 steals.
One interesting about Walker's splits is that the switch-hitter was hitting a remarkable .385/.445/.664 in 122 at-bats against righties, as opposed to just .152/.250/.283 against lefties. It's not going to make much sense to platoon him with the left-handed-hitting Jeff Clement at first base. However, he probably deserves some of the at-bats that have been going to Ryan Church and Andy LaRoche.
The Pirates might as well give him a lengthy trial. He's far from a sure thing, but he's always had some upside, and while guys like Clement, LaRoche and Lastings Milledge shouldn't be given up on, there's only one player in their whole lineup right now who is a sure bet to still be on the club at this time next year (Andrew McCutchen).