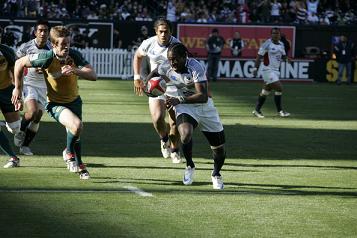 We have lots of "Talks" around here now. ProFootball, Hardball, ProBasketball, ProHockey and CollegeFootball.  That's not enough, though, so we've added one more: Rugby Sevens Talk.
Rugby Sevens is a variant on rugby that involves (duh) seven guys instead of the usual 15. And there are far fewer Hakas.  Well, maybe not. I have no idea really, which is why I bookmarked my buddy Buzz McClain's new blog about it, which only a few posts in is already proving educational, so no worries if you're not all that well-versed.
Why should you check it out? One obvious reason — which I won't lie about — is corporate synergy.  NBC is going to broadcast the debut USA Sevens Collegiate
Championship Invitational next month and the blog is a good way to educate people about the sport and to hype it up a bit.
But I'd be into it even if there weren't business reasons for it because (a) the sport seems weird and cool and I like weird and cool; and (b) the championship is going to take place right here in Columbus, Ohio, so I'll probably go down and see it in person.
So give Buzz and Rugby Sevens Talk a look-in.  If you don't like it, hey, fine, rugby sevens has been around for 127 years so it will probably manage to go on without you.  But maybe, just maybe, you'll find something new and fun and cool and weird and, really, who doesn't need more of that in their lives?