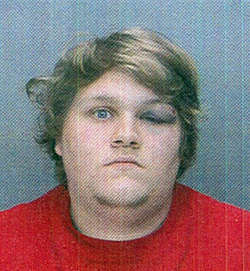 Remember that guy in Philadelphia who intentionally thew up on the 11 year-old girl?  Yeah, that was wonderful.  Seems his legal team decided that he might not be able to win over a jury, because he pleaded guilty this morning:
A 21-year-old New Jersey man has pleaded guilty
to intentionally vomiting on a man and his 11-year-old daughter in the
stands during a Philadelphia Phillies game. Matthew Clemmens of Cherry Hill, N.J., pleaded guilty to simple assault and other charges
Tuesday.
I know it would have been a tough case and everything, but if I was representing him I would have considered taking this baby to trial. Why? Thin forensic evidence! You can't dust for vomit!
But yeah, I suppose the DNA evidence could be a killer.