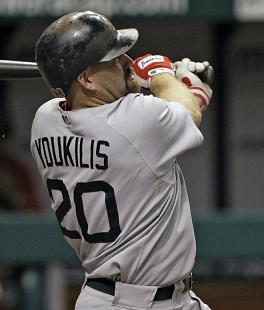 Four games? That's it? Blimey.
Red
Sox 6, Rays 1: Clay Buchholz continues Boston's string of nice
starts as the Sox (a) beat the Rays for the first time in five tries;
and (b) move to four games over .500 for the first time all season.
David Ortiz homered for the fifth time in his last nine games.
White Sox 7, Indians 2: John Danks allowed two runs and six hits in five innings for the Sox. Justin Masterson lost his 11th straight start dating back to last August. Cleveland: you may want to go with another plan. Omar Vizquel tied Luis Aparicio for second on the all-time hit list for shortstops. I'll have more on that later this morning.
Blue Jays 6, Angels 0: Brett Cecil allows zippo on two hits in seven and a third as the Jays shut out the Angels. Cecil is 4-1 on the road with a 2.67 ERA. He's 0-1 at home with a 10.13 ERA at home. Which raises the question: why does Brett Cecil hate Canada?
Reds 7, Pirates 5: Aaron Harang scored from first on an Orlando Cabrera double. That is, 6'7″ 260 pound — officially anyway — Aaron Harang lumbered in from first. Watching the video of it is much improved if you do a bunch of Curly "whoop whoops!" as he's running. Yeah, that's kind of Chris Bermany, but it really does work here. The Reds are once again tied for first place.
A real slate of ballgames tonight, thank goodness.