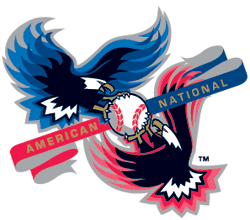 MLB.com has a story with a rather misleading headline today: "NL makes a statement on Interleague weekend."  Big statement: it was 22-20. They could have drawn game results out of a hat and gotten the same results. I'd ask anyone who reads significance into that record to immediately walk down to the nearest community college and sign up for an introductory statistics class before you hurt someone.
But hey, a statistically insignificant sign of league parity is better than nothing, right?  Bah.  As I said the other day, I find the comparison of the AL and the NL to be a dreary exercise. I must admit that this is partially because I'm an NL guy and I get tired of hearing people disparage the senior circuit.  But it bothers me far more because it's a comparison that easily leads people to unwarranted conclusions based on an ignorance of baseball history. News flash: disparities, even great disparities, are nothing new.
While the Yankees got their titles, most people agree that the NL was the superior league — some people would argue far superior league — from the 1950s through the 1970s. Indeed, one reason the Yankees got so many titles in the 50s and early 60s was because they didn't have to face much in the way of strong competition to win the pennant in the first place, what with pushovers like the Senators, Athletics, Browns/Orioles and others hanging around.
The NL, in contrast, was much stronger top-to-bottom, with far more teams breaking through to win pennants.  A lot of this had to do with the fact that the NL was much faster in integrating. A lot of it also had to do with the fact that the NL had smarter front office people than the AL (which explains the integration thing too), managers who utilized the speed game, thus diversifying offenses and owners who seemed less focused on the bottom line than on winning (key word being "seemed").
Due to the lack of interleague play back then we can't really quantify how much better the NL was than the AL, but it's hard to argue that the NL wasn't a better league during those years. Now we can quantify such a thing, and we have pretty clear evidence that the AL is superior to the NL.  Rather than just let it be, however, we get people wringing their hands and using such information as the basis for crazy suggestions like radical realignment and what not.
It's one of the rare instances where more data, rather than less, is likely to lead people astray.  Let it be people.