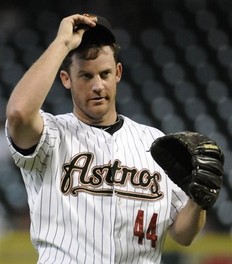 We're starting to get some legitimate trade deadliney and transactiony stuff happening this week. That means Ken Rosenthal is transitioning out of early season hey-let's-propose-some-wacky-realignment-thing mode and into what he does best: reporting the rumors and offering some genuinely informed speculation on who could be on the move and where.  Today's latest:
Carlos Zambrano is poised to head to the Cubs rotation, but there's really no room for him, what with the pretty darn good work the staff has put in thus far.  Feel that? Trade winds!
Jose Bautista, Paul Konkerko, and Ty Wigginton could all be available at the deadline. And they just happen to lead all of baseball in home runs, which is neat.  Hear that? That's Brian Sabean about to buy high!
The Nats are likely to strike a deal to keep Adam Dunn in Washington.  This isn't terribly surprising. More surprising: Rosenthal calls Dunn a "clubhouse leader."  I'd actually buy this inasmuch as every clubhouse needs a big amiable guy with a good sense of humor. Marty Brennamen, however, is rolling over in his grave.
What? Brennamen isn't dead yet?  I'll be damned.