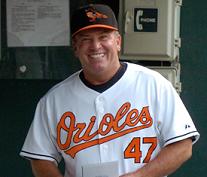 Today is the first time anyone has had a day off in a week and a half — and 22 teams have the day off — so you can imagine a bunch of them are going to take stock.  One of them is the Orioles, and after yesterday's performance, one has to wonder if they're going to do what is coming sooner or later anyway: fire Dave Trembley.
And when I say yesterday's performance, I'm not talking about the on-the-field performance. I'm talking postgame. Trembley, usually a pretty even-keeled guy, was testy yesterday afternoon, walking out of his postgame press conference after being asked why Corey Patterson failed to tag up on a long fly. That one has a pretty easy answer — he's Corey Patterson and he's not very good at baseball — but normally a manager will stay away from that sort of thing. Trembley didn't. He disgustingly told the reporter to go ask Patterson and then left the session.  The Baltimore Sun's Kevin Cowherd said Trembley "was as beaten as I've ever seen him."
If Trembley is truly defeated he is no longer providing the one thing he's supposed to be providing: a calm and peaceful environment in which the young players can develop.  Maybe that all disappeared as soon as this team — which everyone was rather optimistic about over the winter — stumbled out of the gate. But if Trembley is grouching around the clubhouse, it's over.
Cowherd says he hears whispers that Trembley could be terminated as early as
today.  He also notes that a day off without travel like today is the kind of day when owners and general managers get together to talk about such matters, so stay tuned.