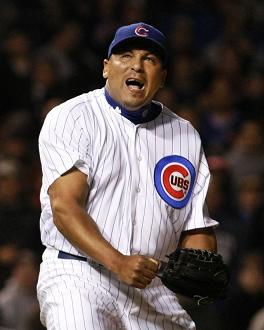 Carlos Zambrano threw 73 pitches in a simulated game at Wrigley Field on Monday, according to Carrie Muskat of MLB.com. As announced last week, the Cubs have begun the process of stretching him out for a return to the starting rotation.
Ken Rosenthal of FOXSports.com isn't a fan of the whole idea, but Cubs manager Lou Pineilla said on Sunday that "Big Z" will return to the starting rotation on the team's next roadtrip, which begins on May 31 in Pittsburgh.
Who goes when Zambrano returns? It's hard to tell.
The Cubs are still waiting to see if Tom Gorzelanny will be able to start on Wednesday after being hit in the left hand by a batted ball last week. On the surface, he's the most likely one to go, but keep in mind that the Cubs already have three left-handers in the bullpen.
Carlos Silva is 6-0 with a 3.52 ERA through his first nine starts, so he hardly deserves a demotion, but it's easy to see some regression down the road here, too (76.9 percent strand rate, .202 BAA vs. left-handed batters). It's worth mentioning that Silva has a 3.73 ERA in 136 career relief appearances compared to a 4.83 ERA over 168 career starts.