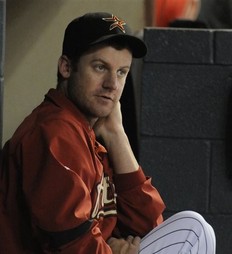 Bill Ladson of MLB.com reports that the Nationals have expressed interest in trading for Astros right-hander Roy Oswalt, who requested a trade last week.
The Nats are off to their best start since 2005 with a 22-22 record, but that might not be enough to attract the 32-year-old Oswalt.  He's aiming to hook up with a contender and try for a World Series ring, and his no-trade clause will allow him to pick and choose from a variety of interested teams.  It would be a shock if he's traded before the end of May (or even June) and plenty of other contending clubs are expected to dial the number of Nats GM Mike Rizzo before this saga is through.
That said, it does make some sense.  Stephen Strasburg is shooting his way through the Nationals' farm system and it would be fantastic to have a stand-up veteran like Oswalt in the clubhouse to keep the kid grounded and focused. 
Oswalt has a lousy 2-6 record this season through nine starts despite an ERA of 2.66 and a WHIP of 1.07.  He has also fanned 60 batters in 61 innings for the Astros, who are in last place in the NL Central.