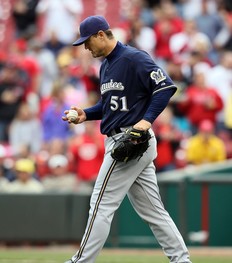 Trevor Hoffman returned to action on Sunday for the first the first time since allowing three earned runs in a blown save opportunity on May 18 against the Reds.  He got four days off in total, and it seemed to help him this afternoon as he pitched a perfect eighth inning against the Twins.
He won't return to closing duties until he can string together several quality innings in setup or middle relief.  Carlos Villanueva is covering most of the save chances and John Axford is getting some looks, too.  Hoffman believes that will change eventually, though, and he's probably right.
"It's about winning ballgames," the veteran told MLB.com.  We briefly discussed it, and [the eighth inning is] obviously not where I want to pitch, but I've put myself in this
position and put the team in a [poor] position. [Manager Ken Macha]
needs to worry about many different facets of what's going on, so if I
go out and throw the ball better than I have for a little bit, then
things will change back."
Hoffman, 42, has a 13.15 ERA and a 2.15 WHIP this season even with Sunday's flawless frame.  The trust of Macha and the Brewers faithful will return slowly — with time and solid performances.