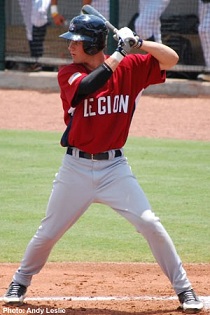 This is getting absolutely ridiculous.
Bryce Harper, who the Nationals are thought to be targeting with their No. 1 pick this June, hit for the cycle on Friday in the semifinals of the NJCAA (National Junior College Athletic Association) World Series.  On Saturday he outdid himself, finishing 6-for-6 with 10 RBI and four home runs as the College of Southern Nevada advanced to the NJCAA World Series final.
Harper, a 17-year-old catcher, continues to amaze at the plate and is one of the most intriguing position players to ever enter the MLB draft.  Dave Sheinin of the Washington Post ran an excellent profile about the kid last weekend and the great Jim Callis of Baseball America is also buying into the hype.
The Nats haven't made anything official, but it's fairly safe to assume that they like Harper and will grab him first overall in next month's first-year player draft.  The only issue now is signability, because Harper is expected to demand a contract greater than the record-breaking $15.67 million deal that was struck with Stephen Strasburg last summer.  Lofty expectations?  Sure.  But it's probably worth noting that Harper's contract discussions will be under the supervision of super-agent Scott Boras.