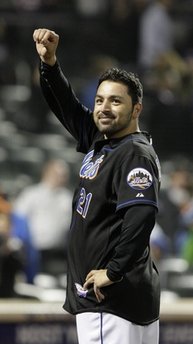 According to T.R. Sullivan and Chris Cox of MLB.com, the Rangers would be interested in trading for Rod Barajas if and when the Mets become sellers.
The Rangers had interest in Barajas as a contingency plan before he signed an incentive-laden one-year, $500,000 contract with the Mets during spring training. It was a pretty easy choice for Barajas at the time, as he was assured of a starting gig in New York, while Jarrod Saltalamacchia and Taylor Teagarden were expected to open the season on the major league roster in Texas.
Barajas has been a pleasant surprise with the Mets, batting .269/.299/.571 over his first 119 at-bats. He leads the Mets and all major league catchers with 10 home runs. Meanwhile, Texas catchers have combined to bat just .200/.292/.300 with four home runs and 15 RBI. Saltalamacchia and Teagarden are now both in the minor leagues, with Matt Treanor and Max Ramirez functioning as the new tandem in the majors.
Barajas previously played with the Rangers from 2004-2006, but don't look for a return anytime soon. Remember, the Mets refused to acknowledge themselves as sellers in the disaster that was last season, so it's hard to imagine a scenario where they'd let him go.