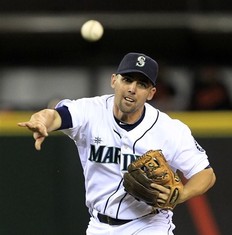 D.J. already brought us news this afternoon about a veteran considering hanging up his cleats, and now it appears we have one more.
According to the Seattle Post-Intelligencer, Mariners shortstop Jack Wilson is growing frustrated with his frequent stints on the disabled list and is unsure how much longer he will play the game of baseball.  The 32-year-old is currently on the 1-day disabled list with a hamstring strain and suffered a setback earlier this week while attempting to begin a minor league rehab assignment. 
"I don't want to play like this," said the shortstop. "It's one of those things that you have
to look at if it'll be an injury that keeps on coming up. It's tough.
You work hard all offseason getting ready. Sometimes the writing is on
the wall. You never know."
Wilson is a .268/.309/.374 career hitter over nine-plus professional seasons.  This year he's batting just .253 with a .275 on-base percentage in 75 at-bats.