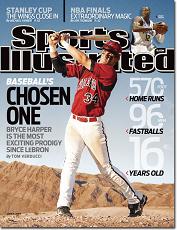 Yeah, this kid could be pretty good. According to Matt Youmans of the Las Vegas Review-Journal, 17-year-old sensation Bryce Harper hit for the cycle on Friday. He went 6-for-7 with five RBI and three runs scored as the College of Southern Nevada smoked Lamar Community College 22-8 in the semifinals of the NJCAA Western District Tournament.
"I don't know if I hit for one in
high school," Harper said of his cycle, the second in the 11-year
history of the CSN program. "I didn't even think about it when I went up
there. I hit one down the line and just ran forever."
Harper has a school record 25 home runs through 60 games with CSN.
If you'd like to learn more about Harper, go ahead and read Drew's post from last weekend. The least you should know? The Nationals will almost certainly select him with the No. 1 overall pick in next month's First-Year
Player Draft.