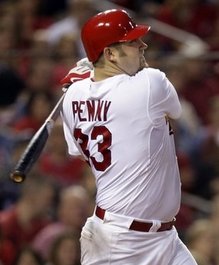 UPDATE: Penny was placed on the 15-day disabled list with a strained left lat muscle, according to Matthew Leach of MLB.com.
He received an anti-inflammatory shot in the area of the injury this morning and hopes to resume throwing in about a week.
"Right now we think it'll be a minimal stay on the 15-day," Mozeliak
said on Saturday morning. "That's what we're hopeful of."
The team recalled right-hander P.J. Walters from Triple-A Memphis to take his place on the roster.
10:21 AM: Brad Penny slugged his first career grand slam on Friday night, off Joel Pineiro no less, but was forced to leave the game after just three innings due to a strained muscle in the right side of his back. He told Derrick Goold of the St. Louis Post-Dispatch that he felt a twinge in the muscle after his last start, but did not disclose the injury to the team.
"I don't think (Tony La Russa and Dave Duncan) were aware of it," Penny
said. "It was something I was trying to deal with between starts. If it
was my shoulder, I'd be a lot more worried. … I could feel it when I
reached back for something. I was hoping there wouldn't be a problem.
But there was something."
I'm not going to act like this is a problem exclusive to the Cardinals, but Joe Strauss of the St. Louis Post-Dispatch wrote the following on his Twitter feed:
Strong sense Penny isn't the only player not
disclosing condition to med/training staff. Either that, or club is
playing loose with truth.

If you recall, this isn't the first time this season that a Cardinals
player has failed to disclose an injury to the team. Felipe Lopez didn't tell the team about the discomfort in his elbow until
after he threw 21 pitches in the 20-inning marathon game against the
Mets on April 17. He just returned from the disabled list on Monday.
Penny is slated to undergo an MRI on Saturday to determine whether he will require a trip to the disabled list.