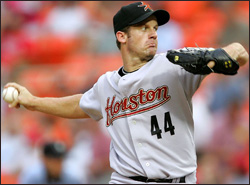 Roy Oswalt had another tough-luck loss last night. In the recaps this morning I said "Roy Oswalt (2-5 with a 2.66 ERA) is giving serious thought to stealing a
convertible, grabbing Zack Greinke and going on a cross-country crime
spree as a result of the run support injustices done unto him for so
long."
Seems that Thelma is getting ready to find Louise and head the heck out of town: He has asked Astros' GM Ed Wade to trade him. Wade, however, doesn't seem too inclined to do anything about it:
Asked if Oswalt had demanded a trade, Wade said: "I'm going to put my
tongue in my cheek and say that Roy's contract includes a no-trade
clause, not a trade-me clause. There is no rule that allows a player in
his contract status to demand a trade. Demand, request… it's all the
same and duly noted."
Um, yeah.  Memo to Ed Wade: your team is horrible, your farm system is horrible, and Roy Oswalt represents about the only thing approaching tradeable value you have.  For your sake I hope this little coy act is just about playing hard to get and maximizing Oswalt's value in the open market. Because if it isn't, and you decide not to deal the guy who will, by far, be the most desirable starting pitcher available in-season, you're committing General Manager malpractice.
Bidders line up on the right.  There's a good one about to become available. We hope.