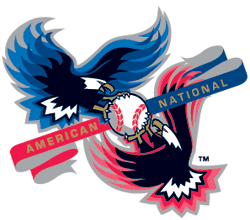 Interleague play begins again tonight. Feel the excitement?
Nah, me neither.  Don't get me wrong: I was against interleague play when it was first proposed because I am a scared old man who fears change, but  after it got started I got used to it rather quickly. I even began to enjoy some aspects of it. I'm not gonna lie to you: Mets-Yankees is kinda neat, as is the Cubs-White Sox, Angels-Dodgers and other geographic rivalries.  I've even gotten into the Indians-Reds thing (though I wish they'd split the difference in travel time and play the games here in Columbus).
But like so many people — players included — I really wish they'd find a way to stick to those rivalry games and spare us series of the Rays-Astros variety, which outweigh those attendance-driving marquee matchups.  I'd rather see more games between teams competing for playoff spots in their own leagues, thank you very much.  The unbalanced schedule already means that some teams fighting for the postseason face a harder road than others. Interleague play exacerbates that. And leads to dumb two-game series. And makes people focus too much on league inequality and do a bunch of other things that, again, because I am old and fear change, I don't particularly like.
But it's not going anywhere. It has proven to be financially successful and does draw some people into the game who wouldn't otherwise watch it (baseball isn't dumb; they know people like me aren't going anywhere).  We all like to pretend that baseball is a public trust or something, with its mission being to make us all warm and happy, but it's a business just like any other business, and interleague play makes good business sense.
Still, interleague play doesn't start until tonight, and I'm already tired of it.  So how about this one, tiny suggestion:  give it a two-year break so as to restore some of the novelty of it.  Take those two years and see whether we're scheduling out interleague play optimally or to see how else we can improve it.  I can't help but think that there's a better way to do this whole thing. 
A way that doesn't make the whole affair both unfair and yawn-inducing.