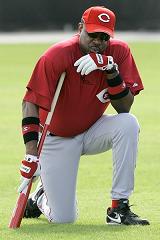 One final note from that Braves-Reds game yesterday.  After the game, Dusty was being asked about his bullpen usage. Specifically, why he pulled Arthur Rhodes after he struck Jason Heyward out with the bases loaded rather than have him face the grand slam-hitting Brooks Conrad.  Dusty's response:
"He wouldn't have faced Conrad," Baker said. "It would have been Clevlen."
That's Brent Clevlen, the Braves' right-handed bench jockey.
To which I ask whether or not Baker is aware that Brooks Conrad is a switch hitter, thereby obviating the need for Cox to bring Clevlen into the game to face Rhodes. That is, if he even would have done so had Rhodes stayed in. Clevlen has had exactly one plate appearance so far this year, and that came after he was used as a pinch runner in a blowout. I'd be shocked if Bobby Cox would have gone with anyone other than Conrad in that situation, regardless of who was pitching.
Of course this is Monday morning quarterbacking, and in saying what he said I think Dusty was exhibiting more frustration about an obviously crushing game than he was exhibiting ignorance about Brooks Conrad's handedness (which I didn't even know until it was pointed out to me).
To be honest, if I were Dusty I probably just would have said "look, what are the friggin' odds that Brooks friggin' Conrad would hit a friggin' grand slam off my friggin' $45 million closer? Go ask Cordero why it happened. Go ask my defense why they gave the Braves so many damn chances today.  I'm gonna go get on the team plane and drink whiskey until they run out of it, OK? We done?"