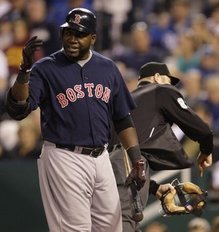 The Boston Globe's Amalie Benjamin has a feature on David Ortiz and how he's been dealing with his early season struggles and the criticism that comes with it.  The short answer? Not well.  Really, if you want to see the dictionary definition of a guy who can't handle the critics, this is it. Among the highlights:
"That's why I came to be, going from being an angel to being [a jerk]. It
wasn't because of me. It was because people change you."
"People take the happiness away from you because they worry about making
some extra dirty money. That's how I call it. When you criticize a
person like me about my game, you're just trying to make some dirty
money."
"So if you're telling me that just because of the fact that I'm not
hitting at the time, you've got to bury me like that?'"
"Everything kind of switched from one day to another, boom, and then you
see the real faces. Then you see what people are going to be like when
you fail."
"when you turn on the TV, living in Boston, all you hear is people just
saying bad things about you like you are a killer, like you just killed
somebody. Like you got no chance in hell to be back. That [stuff] just
crushes, that [stuff] just hits you, that [stuff] just buries."
"I know how to fight back," Ortiz said. "That's the thing. I'm a nice
guy. I don't like to see people struggling. I don't like to be horrible
to people. I don't like to be mean to people. But on the other hand,
people make you be like that. People is horrible."
The most interesting bit is where he goes on about ESPN's Buster Olney, with Ortiz calling him out for saying that he could no longer handle the inside fastball.  Ortiz's beef: he never gets inside fastballs, so Olney is full of it.  I don't have the Pitch f/x-fu to figure out who's right about that, but I suppose someone is checking that out as we speak.
However that turns out, there's no question that Ortiz is being overly-sensitive here. He has been among the most beloved players in all of baseball the entire time he's been in Boston. He got off easier on the PEDs stuff than any player ever has.  The criticism he's gotten — that his production doesn't match his contract, and that Boston might need to go in a different direction — has been relatively recent and has been no harsher than anything any player in that position has ever received. Indeed, in a lot of ways much easier, inasmuch as it's almost always tinged with an empathy and a reminder about how much he has meant to the franchise.  I mean really, if he thinks that what he's gotten has been bad as far as the Boston media is concerned, he hasn't been paying attention to the Boston media very long.
More generally speaking, I think it's pretty apparent that David Ortiz never learned
the most important thing about celebrity, which is not to believe
everything people say about you when you're high or when you're
low.
Big Papi was quite comfy when people had
nothing but nice things to say about him, which has been the case for
almost his entire career. Now that he's seeing the other side of that, he can't take it.  Which is pretty sad.