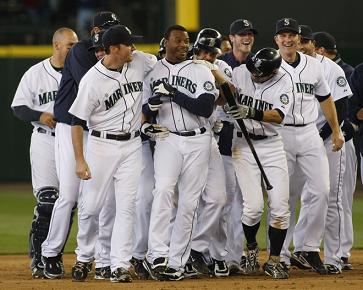 Mariners
4, Blue Jays 3: Ken Griffey, Jr. with the pinch hit, game-winning
RBI single.  Don Wakamatsu was ejected before Griffey was sent in to the game, so it wasn't his call.  However, a source of mine secretly
recorded the conversation that the remaining coaching staff had before
Junior was allowed to go up and pinch hit:
Bench Coach: Need to pinch hit. Send up Tuiasosopo.
Hitting Coach: What about Griffey?
Bench Coach: Ah, he's a freakin' corpse.
Griffey: I'm not dead.
Bench Coach:
What?
Griffey: I'm not dead.
Hitting Coach:
'Ere, he says he's not dead.
Bench Coach: Yes he is.
Griffey: I'm not.
Hitting Coach: He isn't.
Bench Coach: Well, he will be soon, he's very ill.
Griffey:
I'm getting better.
Bench Coach: No you're not, you'll be stone dead in a moment.
Griffey: I think I'll go for a walk.
Bench Coach: You're not fooling anyone, you know.
Griffey: I feel happy. I feel happy . . .
Braves 10, Reds 9:  Already hit this one up yesterday, but let me say again: wow. In case you missed it.
Rays 8, Yankees 6: New York fell behind 3-0 early, but tied it up, gave up another run, and then tied it up again before a couple of Carlos Pena homers put the game out of reach. For the second night in a row a ninth inning mini-rally fell short for the Bombers, who dropped both games to the Rays.
Brewers 4, Pirates 3: Tough game: home plate umpire John Hirschbeck was knocked out of the game when a pitch hit him in the mask, Greg Zaun left because he hurt his shoulder, and the Brewers — already a man down due to Jody Gerut's absence to be with his pregnant wife — ended up pinch-hitting with Yovani Gallardo. No harm, no foul, though, as the Brew Crew won the game and broke their brutal losing streak. Carlos Villanueva with the save. Get used to that.
Cardinals 4, Marlins 2: Adam Wainwright gives up two runs over seven innings — because he basically always pitches seven or more innings — and Matt Holliday had two doubles and a couple of RBI from his new home in the three-hole.
Red Sox 6, Twins 2: The Twins' loss drops them back into a first place tie with the Tigers.  The offense, she struggles lately, and Francisco Liriano — lights-out in April — is getting the snot beat out of him in May, allowing 16 earned runs in 23.2 innings and losing three in a row.
Phillies 5, Cubs 4: Jose Contreras worked out of trouble in the ninth to get the save. After the game, when asked about what it's like to be the closer, he said "At the beginning, I thought it was only one inning. Now I know how tough
it is."  But we should all cut Contreras some slack here. After all, the save stat wasn't even invented until he had already been pitching for ten or eleven years.
Tigers 5, Athletics 2: One of just several of the two-game series this week that, according to the game stories, resulted in a "sweep."  Can we make a rule that you can't "sweep" anything that isn't at least three games long?
Royals 9, Indians 3: Hey, the Royals aren't in last place anymore and Ned Yost is 5-2 since taking over last week. Manager of the Year, anyone? Heh — that one guy reading in Charlotte, North Carolina thought I was being serious. Hey, everyone! Let's laugh at that guy!
Mets 10, Nationals 7: John Maine left the game after throwing only five pitches. The reason: "diminished velocity," a reason for which I've never seen anyone get pulled out of a game before. Four RBI for David Wright and a 15-hit attack covered for the pitching issues, however.  What the Mets will do for a starter now is anyone's guess. Throw R.A. Dickey once every two days, maybe.
Rockies 4, Astros 0: Sending Ubaldo Jimenez out against this Astros lineup is almost unfair. He one-hit them over seven.  Roy Oswalt (2-5 with a 2.66 ERA) is giving serious thought to stealing a convertible, grabbing Zack Greinke and going on a cross-country crime spree as a result of the run support injustices done unto him for so long.
Dodgers 4, Padres 1: Clayton Kershaw shuts down the Friars, and the Dodgers now stand a mere game out of first place.
Diamondbacks 8, Giants 7: Not something you see every day: Lincecum gives up five runs on five hits in five innings. The Dbacks scored the winning run on a wild pitch by Jeremy Affeldt.
Rangers 13, Orioles 7: Brian Matusz got shelled and the Rangers rapped
out 20 hits in all.  Heck, Baltimore had 15 hits of their own.
Angels 6, White Sox 5: The Angels have won five of seven. The White Sox have lost eight of 12. Random: Mike Scioscia gave Brandon Wood the night off because, he said, he's "pressing too much."  It seems like there has been an explosion in the use of the term "pressing" this year. I kind of know what they're trying to communicate with it — someone's trying too hard and getting frustrated, maybe — but I'd like someone to explain to me in concrete terms what the evidence is of someone pressing separate and apart from them getting poor results. Can someone ever just suck, while being free and easy out there?  Is there a difference between chasing awful pitches because one is "pressing" and doing so because one simply has crappy plate discipline?  These are the things that keep me awake at night.