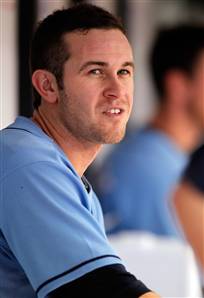 Evan Longoria is 24 years old. In his third season in the majors, he's already a two-time All-Star and Gold Glove winner, and arguably the best player on the best team in baseball.
His face is on video game boxes and television commercials (see below), and he just might be on the way to replacing Derek Jeter as the face of baseball.
Could life get any better? Well, yes it could.
Marc Topkin of the St. Petersburg Times reports that Longoria will be featured in the June/July issue of Men's Journal. And it's not going to be your standard sit-down interview with a guy like me.
Longoria, poses with model Jennifer McDonough, and styles how to dress for a warm-weather getaway. There's an article to go along with photos, and he shares with McDonough thoughts on his faith (he went to Catholic school for 12 years), favorite destinations (New York, Chicago, Brazil) and what he'd do if he wasn't playing baseball (think criminal justice).
Yes, Evan Longoria is now being interviewed, and is posing with, supermodels. (Topkin includes plenty of photos here).
Still worried about Longoria going through life being mistaken for Tony Parker's wife? Yeah, I didn't think so.
Are you on Twitter? You can follow Bob here, and get all your HBT updates here.