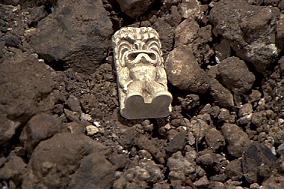 Last night the Yankees ended the game with an outfield of Ramiro Pena, Randy Winn and Brett Gardner.  Not exactly how they figured the season would go.  Add in the Jorge Posada injury, Nick Johnson's wrist, Alfredo Aceves' back and everything else and this team is the walking freaking wounded.
Snakebit? I don't know. But check out the screen grab of Marcus Thames' injury over at IIATMS. Yeah, he stepped on the bat he had just discarded, turning his ankle. What, as they say, are the effing odds?
I don't believe in voodoo or any of that stuff, but something is up with this team.  What's next? Mark Teixeira wiping out badly while surfing? CC Sabathia throwing out his back while hula dancing? Phil Hughes waking up in the middle of the night to find a tarantula on his chest?
The Yankees should probably return their World Series rings to an ancient Hawaiian burial ground to break the tabu. Just watch out for Vincent Price.