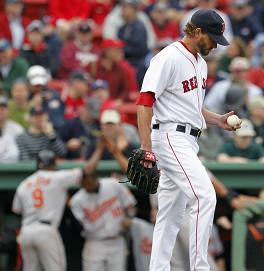 The Red Sox told Scott Schoeneweis that he was being designated for assignment after last night's game, ending his tenure in Boston. The actual move will come this morning, so the ten-day period during which the team has to trade him, release him or place him on waivers begins today.
It's never a good thing to be kicked off the 40-man roster but, as many have noted, it's a tougher thing for Scott Schoeneweis on this day. Why? Because today is the one-year anniversary of his wife's death.  I don't think you can expect the Red Sox or anyone else to not make these kinds of moves when they are necessary — almost every day was a bad day for someone — but this one has to sting particularly bad. The best you can say of it is that at least Schoeneweis will have a chance to be with his family today, which is how he's viewing it:
"It's nothing personal. It's more difficult for me because it's tough
for my kids. Tomorrow is going to be a difficult day for me and my
family anyway. But I guess everything happens for a reason, and I'll be
home for them and for me. There are worse things, obviously, and I've
been through all that. We'll be alright."
Good luck to Schoeneweis. Here's hoping, left arm willing, he turns up someplace else soon.