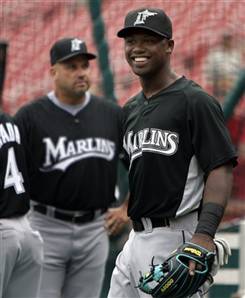 We've certainly managed to squeeze a lot of mileage out of the Hanley Ramirez incident over the last couple of days.
Yes, he loafed. Yes, it was a bad thing. But now, after his apology to his team – and, even better, a three-hit game in a victory over the St. Louis Cardinals on Wednesday – we can all move on. (By the way, did you notice the Marlins are three games behind the Phillies?)
But before we do that, let's take one last quick run around the Internet to see what they're saying about the Florida Marlins' best player.
First of all, in case you missed it, take a look at the big play in question.
Our own Bert Blyleven isn't worried about Ramirez dogging it so much as he hates how the Marlin handled the aftermath.
Orlando Magic coach Stan Van Gundy can't understand why a baseball player can't hustle when he's only asked to do so every so often.
"Baseball demands maybe 7, 8, 9 times a game you gotta really bust your ass and make a play. You can't do that?"
Um, Stan, you might want to talk to your team, which is getting kicked into left field by the Celtics.
Joe Posnanski asks his readers to answer the question "What if it had been Jeter?"
My personal favorite: Jeter would've caught the ball on one bounce, froze the runners with a look, started a triple play and helped an old lady across Dallas Braden's mound.
Will Leitch (and Joe Sheehan) writes that talent should outweigh effort every time, but still wants Ramirez to "run, you idiot!"
And last but not least, Joe Riggins has a name for Ramirez: Lollygagger!
Are you on Twitter? You can follow Bob here, and get all your HBT updates here.