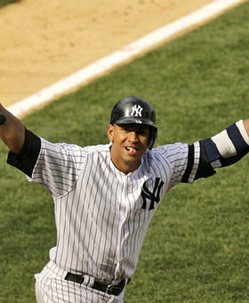 Fun times in the Daily News today, as Mike Lupica takes A-Rod to task over the Dr. Galea story, sarcastically asserting that, apparently now that Rodriguez is no longer a post-season choker and all of that, apparently he doesn't feel the need to come clean. Many of you may agree with him.
But read the column closely, and it's quite obvious that Lupica is not complaining about A-Rod's reticence with law enforcement or Major League Baseball or the Yankees.  He's angry because A-Rod won't talk to the press.  Really, go look: his big beef is that A-Rod dodged a question about the Galea charges before yesterday's game, and from that he launches into a thousand-word piece, at the end of which he actually lists the questions he wants A-Rod to answer.
Which is rather crazy.  I mean, I have no idea what the relationship was between Dr. Galea and A-Rod and I have no clue what Rodriguez was and wasn't prescribed.  But I do know that federal charges are coming down against Galea, and in those charges athletes are being called out. Anonymously for now, but not for long.  Clearly, at some point, those athletes named will be required to testify about Dr. Galea, likely under some sort of immunity deal, but certainly under penalty of perjury.
In light of this, if A-Rod answered the questions Lupica had for him, he'd be putting himself at a significantly higher risk of legal jeopardy.  Any lawyer in the country would advise their client not to give press conferences about such topics given what's happening right now.
A-Rod's decision not to answer Lupica or any other reporter's questions about the subject is a very wise one, borne of savvy legal advice, not, as Lupica believes, some arrogance resulting from Rodriguez's newfound status as postseason hero and clutch god. But it's Lupica, and even if he realizes this he's going to ignore it