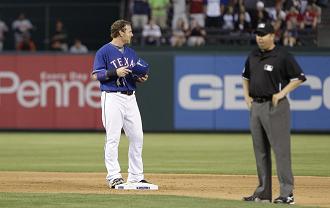 What's the point of having replay review of home runs if the umps aren't going to use it? Josh Hamilton was credited with a double on this play despite the fact that the ball clearly left the field of play.  It didn't end up costing the Rangers the game, but it easily could have.
Let me once again make my plea:  put an ump up in the booth with TV monitors and a walkie-talkie.  Such a man could have seen that replay as quickly as the announcing crew did, buzzed the crew chief down on the field and the home run could have been called correctly.
To not do this is to ensure that at some point in the future a game — maybe even a really important game — will turn on a totally avoidable mistake.