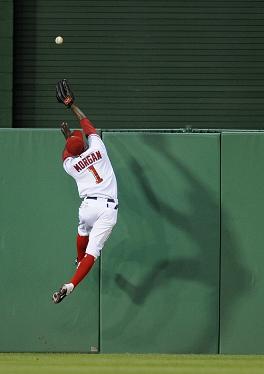 Angel Pagan hit an inside-the-park homer in the fourth inning of last night's Mets-Nats game, which you can see here. Then, in the fifth, he started off a triple play, which you can see here.
Before I say anything else, let me say this: great job by Pagan for (a) running like a mofo out of the box on the inside-the-parker; and (b) making a great catch on the triple play. What I'm about to say isn't meant to take anything away from him.
But I'll say it anyway: boo to Nyjer Morgan for misjudging the fly that turned into the home run. If he hadn't and, if instead, he had played the carom, then Pagan would have had a double.  I've written before that I don't, like many people, find inside-the-park home runs to be the most exciting play in baseball because they are so often the product of mistakes by the outfielders and many times aren't even close plays (give me a clean triple any day). This one was still exciting — there was a play at the plate at least — but if Nyjer doesn't misplay that ball, there's no homer.
Also, boo to second base umpire Bob Davidson for not making anything close to a definitive call on Pagan's catch that kicked off the triple play, thereby confusing the base runners. Yes, it's the runners' responsibility to make double damn sure that the ball drops before advancing, but on plays that close the ump has to make a better call than that.
And Mets fans: please, hold your "stop hating on the Mets" rebop. I'm not hating on them. Like I said, great plays by Pagan. But that doesn't mean that Morgan and Davidson didn't screw up.