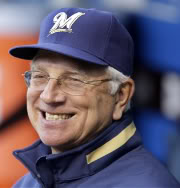 I've taken a few shots at Ken Macha in the past couple of days, mostly because teams that (a) are expected to contend; (b) lose nine games in a row; and (c) have an able and experienced bench coach like Willie Randolph hanging around tend to fire their managers.
But that's not the case says Brewers' GM Doug Melvin:
"I don't see any reason. I
see reasons to work together and try to get some wins . . .Everybody wants to fire everybody, but I talk to Mark everyday and Ken
every day. You go about and do your business, and all
you've got to do is continue to work hard."
I'm not going to call that a dreaded vote of confidence because of the "I don't see any reason" line. That could later make Melvin's judgment look poor in the event Macha is fired.  A true dreaded vote of confidence would be more passively-stated, in which Macha's good qualities were listed, the situation generally but vaguely addressed, but no personal endorsement took place.
So I'll lay off Macha now. This wasn't the dreaded vote of confidence. This was a legitimate vote of confidence.
At least I think so.