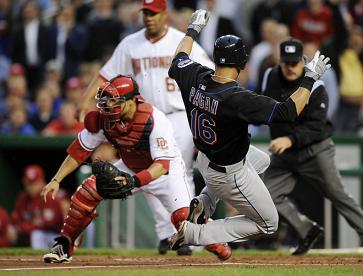 Nationals 5, Mets 3: Triple plays and inside the park homers are pretty cool. Sadly, they only count for three outs and one run, respectively. Hats off to Angel Pagan all the same.
Royals 8, Indians 4: Kerry Wood came into a save situation in the ninth
and gave up a triple, a single, a double, two straight walks, and
another double before Manny Acta took him out of the game. By that time
the Tribe's one-run lead had turned into a four-run deficit, whatever was
left of Kerry Wood's trade value evaporated and the fates reserved Wood
a one-bedroom apartment next door to Trevor Hoffman's new place in
Sunny Acres: An Active Community for Active Former Closers.
Pirates 6, Brewers 4: Nine straight losses for the Brew Crew. Ask not
for whom the bell tolls. It tolls for Ken Macha.
Cubs 4, Phillies 1: 20 year-old Starlin Castro hit a single off 47
year-old Jamie Moyer which I think means that Castro is now only one
degree removed from Cap Anson.
Angels 3, White Sox 2: Joe Saunders out-duels John Danks. Literally: they
chose main-gauche daggers and thrusted and parried until Danks lay
bloody and dead on the U.S. Cellular Field pitcher's mound. It was a
harsh sight, but Danks died with his dignity and honor intact. Saunders
indicated after the game that, in light of his noble opponent's display
of pluck and courage, he would wait the customary fortnight before
courting the Widow Danks.
Braves 5, Reds 4: The Reds have been the league's biggest comeback artists all year and almost pulled it off again last night, but Jason Heyward wasn't having it.  After blowing a four-run lead, Heyward doubled in Martin Prado with the winning run for Atlanta's second walkoff win in a row.  Heyward was a beast — two doubles and a triple, two runs scored and an RBI — and the mind reels at where this team would be without him this year.
Red Sox 3, Twins 2: Clay Buchholz played stopper, giving the Sox their first decent starting pitching performance since the last time Clay Buchholz pitched (8 IP, 5 H, 2 ER, 7K).  A two-run homer for Big Papi, who's now up to .367/.407/.755 for the month of May.
Astros 7, Rockies 3: Clint Barmes threw away what should have been out number three in a tie ballagme in the eighth, opening the floodgates for four unearned runs. Jeff Keppinger had four RBI for the Astros, who plated the most runs they've had in a single game in a week.
Rays 10, Yankees 6: Not as close as the score suggests, as the Rays had a 10-2 lead entering the ninth after batting around in the fourth and eighth
innings. While, sure, the Yankees made it kinda interesting with four runs in the final frame, it was just too big a deficit to cause anyone to get too worked up about it.  In other news, I could have sworn that putting Berman and Sutcliffe in the same booth was outlawed at the Third Geneva Convention, so how no one is on trial for it this morning is a mystery to me.
Marlins 5, Cardinals 1: Hanley Ramirez apologized, gets three hits and life goes on.
Rangers 4, Orioles 3: I guess you can still call it a "walkoff" if it's a sacrifice fly, so hey: walkoff sac fly for Nelson Cruz. Dave Trembley used seven pitchers, six of which pitched in the final three innings. Maybe he has a personal quota of some kind and suspects that he won't be around in July, August and September in order to fulfill it.
Padres 10, Dodgers 5: San Diego (a) snaps the Dodgers' win streak; and (b) busts out some unheard of for them levels of offense.  Six RBI for Adrian Gonzalez on a homer and a couple of singles. And if this isn't Ramon Ortiz's last start in a Dodgers uniform, something is seriously wrong (3.1 IP, 6 H, 5 ER, 3 BB).
Diamondbacks 13, Giants 1: I was totally unaware of who started this game for the Giants, but when I
saw the score I said "Wellemeyer." Although to be fair, six of the Dbacks' runs came in a nightmare eighth inning, and were the responsibility of Brian Medders.  That's what you call takin' one for the team. Adam LaRoche hit two of the Dbacks' six homers.
Blue Jays 3, Mariners 2: Milton Bradley came back and had a couple of hits, but nothin' else good happened here for Seattle, which lost its fifth in a row and seventh of ten.
Tigers 5, Athletics 1: Justin Verlander out-duels Dallas Braden. No knifes this time, just pitches. Complete game four-hitter for Verlander. Braden gave up two runs over six, but then left because he wasn't feeling well and had to have an IV after the game. Except in the 209 they don't use a syringe and a saline drip. They use a rusty nail and motor oil.