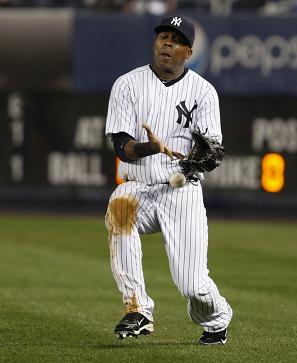 Yes, Mariano Rivera allowed two runs on a pair of hits in the ninth inning of
a tie game, but no, this one wasn't his fault. I mean, sure, on some level he has some blame because if bats don't hit balls none of this happens, but you can't strike everyone out — that's fascist, you know — and you gotta have a little help out there. Rivera didn't get any.
Rivera entered a 5-5 contest — a score largely attributable to Joba Chamberlain's ineffectiveness in the eighth — and got Mike Lowell to ground out. Darnell McDonald then hit a single, bringing Marco Scutaro
to the plate. He popped it up to shallow right, where Marcus Thames muffed it, first taking his eye off the ball and then trying to make a basket catch with his eyes closed. Yeah, good luck with that, Marcus. Rivera
then got Dustin Pedroia to ground out, putting McDonald on third and Scutaro on second.
At that point the Yankees brought their
outfielders in to play extremely shallow. I'm not sure I get this. Yes, I understand that you want to set things up for a play at the plate, but isn't a ball going over your head the last thing you want? The Yankees are the home team here, so it's not like a single run scoring on a sacrifice meant the end of the ballgame. As it turned out, the ball hit by Jeremy Hermida went over Randy Winn's head, allowing both McDonald and Scutaro to score.  The Yankees scored one in the ninth which would have sent the game to extra innings had Winn caught Hermida's ball — which he would have if he was playing straight up — Scutaro would not have scored.
But that's Monday morning quarterbacking, I suppose. More critical in this game was Joba Chamberlain's ineffectiveness. Chamberlain has now allowed six earned runs in his last two appearances, and last night's effort wasted what I'm contractually-obligated to call a "gutsy" performance by CC Sabathia. The bullpen is basically in shambles lately, Chamberlain has a lot to do with it and the Yankees need to do something about it.
So put this one on Chamberlain. Put it on Thames. Put it on Girardi. But don't put it on Mariano Rivera.