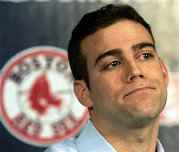 The Globe's Nick Cafardo defends Red Sox GM Theo Epstein for going to see Pearl Jam on Monday night rather than watching the Red Sox-Yankees game.  I agree with Cafardo's defenses: Theo works insane hours, he always has his Blackberry anyway, and while the season isn't going how everyone wanted it to, it's not like Epstein hasn't been doing his job.  Dude deserves to go to a show once in a while, doesn't he?
The only question I have is who was actually criticizing Epstein over this?  I value my brain cells so I don't listen to Boston talk radio, but were people actually considering this to be some sort of issue?  I'd wager $10,000 that Theo Epstein works more hours and is better at his job than every single person who considered this to be a legitimate problem.
And here I thought people would ignore Red Sox minutiae until the Celtics season was over.