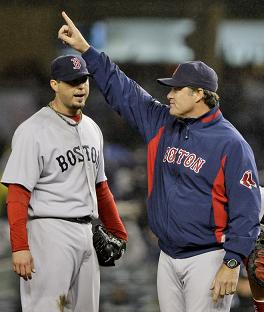 UPDATE:  It appears I misinterpreted the use of the term "indication of injury" in the AP story.  The beef was not that Girardi thought there was no evidence that Beckett was injured.  Rather, he was protesting the fact that Delcarmen was called for before the umpires were informed that Beckett was injured (i.e. it was "indicated' that he was injured).  My bad on misinterpreting that.
That said, it hardly matters. If the focus of the protest is the exact order of the switch — that the umps should have been told before the signal went down to the pen — we're in the land of overly-legalistic b.s.  Technically wrong to do things in that order? Sure. But everyone knew what the situation was within the about 10 seconds, it was right to give Delcarmen as many pitches he needed because there was an injury, and there was ultimately no harm done to anyone as a result.
8:43 A.M.: One last bit from the Yankees-Red Sox game:  Joe Girardi finished the game under protest.  That never works, but it's fun all the same.
The basis of the protest: Josh Beckett gave up a two-run double to Robinson Cano, after which Red Sox pitching coach John Farrell went out to the mound. Beckett and Farrell talked things over, but then Farrell motioned to the bullpen for Manny Delcarmen to come into the game.  Beckett then left with the trainer, as he was suffering from back tightness.  Because it's an injury situation, Delcarmen got as many warmup pitches as he wanted.
The Yankees protested this because, according to the AP story, "there was no indication of an
injury to Beckett by that point."
To which I ask, what "indication" is necessary?  Must Beckett hop around holding his toe as if a cartoon anvil fell on it?  Does Joe Girardi need to to see little animated lighting bolts and ouchy marks flashing around Beckett's lower back?  The guy left with the trainer, and I'm sure someone on the field said something about an injury, if not immediately, then as soon as Girardi asked about it. While I suppose it's possible that this was all a big conspiracy to cover for the fact that Francona didn't get Delcarmen up in the pen fast enough, it's not like Beckett hasn't had back issues already this season.
The chances of this protest being upheld are virtually nill so who cares, but even as far as unsuccessful protests go, this one seems rather weak.