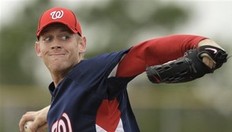 Top prospect Stephen Strasburg continued his dominance at the Triple-A level on Wednesday evening, fanning nine batters over 6 1/3 scoreless innings against a group of Twins minor leaguers.  The stats come compliments of the Nationals' official Twitter feed.
Strasburg has now fired 18 1/3 scoreless innings since being promoted to Triple-A Syracuse from Double-A Harrisburg and may be only two or three starts away from his big league debut.  The 21-year-old allowed only three hits Wednesday and threw 60 of his 92 pitches for strikes.
Of course, the only reason he remains in the minor leagues is so the Nats can avoid him reaching Super Two status.  The strategy should save the club millions in the long-run, but it's pretty apparent that Strasburg is ready for greater competition.