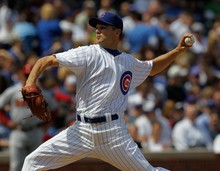 Tigers acquire LHP Ted Lilly and cash from the Cubs for RHP Joel Zumaya.
Why it works for the Tigers:
The early signs point to the AL Central playing out much like it did last year, with Minnesota and Detroit going down to the wire and no wild card available for either. The Tigers, though, might need one more starter to hang with the Twins all season long. Rick Porcello will be fine, but Max Scherzer has been a bust and Jeremy Bonderman is probably just a No. 4 at this point of his career. They could really use a lefty capable of following Justin Verlander in a postseason rotation, and Lilly is just that. He had a 3.10 ERA for the Cubs last season, and he has a history of being an above average, if unexceptional, starter in the AL.
Of course, the Tigers would be giving up a big piece of their team in this deal. Perhaps they'd be better off waiting to see if Cliff Lee became available in July. However, realistically, they'd be a very poor bet to win a bidding war for any top talents. While losing Zumaya would hurt quite a bit, the Tigers would still have a hard-throwing right-handed setup man in Ryan Perry, a couple of solid lefties in Phil Coke and Fu-Te Ni and a potentially huge wild card in Scherzer. The Tigers would be crazy to give up on Scherzer as a starter, but if the rotation seems sound without him, then a temporary shift to the pen would make sense.
Why it works for the Cubs:
I don't think it does. But it was the Cubs' idea to move one of the game's winningest and highest-paid starters into a setup role last month. Since that didn't work out, they're still looking for an eighth-inning guy to put in front of Carlos Marmol, and they now have an extra starter to barter with. Ideally, they'd trade Carlos Silva instead. But Silva isn't going to bring this kind of return. Lilly might.
Zumaya, for what it's worth, has been positively dominant this year, amassing a 1.90 ERA and a 26/4 K/BB ratio in 23 2/3 innings. The greatly improved walk rate has come as a very pleasant surprise. Still, he's very risky. Since pitching 83 1/3 innings as a rookie in 2006, he's been limited to 111 2/3 innings over 3 1/4 seasons. More shoulder problems are always a possibility.
Why it won't happen:
There's just too much downside for both teams. Both Lilly and Zumaya have battled arm woes in the recent past, and it'd be risky to give up such a substantial piece for either, even if it'd be trading risk for risk in this case. There's also the fact that Lilly is making $12 million this year, while Zumaya is earning $915,000, meaning the Tigers would likely want some money to change hands. Furthermore, Lilly has no-trade protection and might not be interested in such a deal.