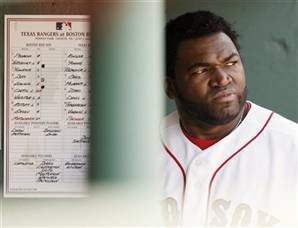 ESPN's Howard Bryant has a fascinating feature today on the "emotional maelsrom" that has been David Oritz's last couple of years with the Boston Red Sox.
There's some arguably poor behavior on Ortiz's part mentioned in there — he allegedly left the ballpark early back in April after being pinch hit for, he "raged" that the team-owned NESN ran a "who should be the DH" poll during a telecast earlier this month and he has seemingly forgotten just how loyal the team was to him back when the PED stuff came out last year — but overall, I think, it paints a pretty nuanced portrait of a guy who (a) is used to excelling; but (b) is clearly not anymore.
There's this tendency to portray Ortiz as either a happy-go-lucky gentle giant or a slumping grouch.  The answer is that, like most of us, he can be both of those things.
Worth a read, that's for sure.