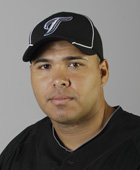 Unless you're a Blue Jays fan, a moderately serious fantasy player or are some sick obsessive who reads every single box score every day [cough, cough], Randy Ruiz probably hasn't even crossed your radar screen. Sure, the Jays' part-time DH and backup first baseman came on really strong late last year, but he hasn't hit for anything in 2010 and at 32 isn't anyone's idea of a prospect.  Not surprising at all, then, that he was released today.
More surprising is the fact that, on the very same day, he signed a contract with the Tohoku Rakuten Golden Eagles of Japan's Pacific League.  What timing that the Golden Eagles' scout was there to thrust that contract in Ruiz's hands mere minutes after the Jays gave him his walking papers!
Unless it really wasn't fortuitous timing.  Unless, like Toronto Star reporter Morgan Campbell, you believe that this was all done beforehand, with Ruiz making his deal with Tohoku Rakuten earlier this month when he missed a couple of games against the Indians for "personal reasons." Campbell believes that Ruiz was talking to the Japanese team then, most likely with the Jays' blessing.
If that's the case, good for the Jays for making it easier for Ruiz to land on his feet.  It's obvious that he doesn't have much of a role with this team, so doing what they can for him — if that's what happened — was right sporting of them.