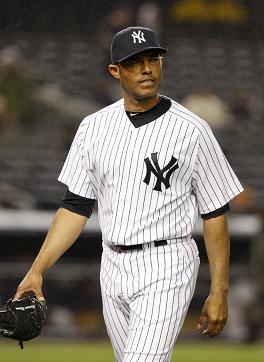 Red Sox 7, Yankees 6: For the second time in three days Joba Chamberlain and Mariano Rivera blew a game. This one was way more on Chamberlain — he came into the eighth with a 5-1 lead and the inning ended with things knotted at 5 — but Rivera came in and gave up two of his own.  I'm sure you'll hear absolutely nothing else about this game today, however, so please, pay it no mind.
Giants 7, Padres 6: Matt Downs had three hits in the game, all coming from the ninth inning on, none bigger than the two-run double in the 12th that proved to be the game winner. The Giants finally take one from San Diego. I think the last time they won one in San Diego the Padres were wearing brown and yellow.
Braves 3, Mets 2: Fundamentally unsound baseball decided this one. First the Braves couldn't bunt over the pinch runner on two attempts, with such "failure" leading to a walk and a chopper that ended up scoring the winning run when David Wright threw the ball away. I'm willing to bet my 1986 Hank Aaron Donruss Diamond Kings puzzle that, had the Braves gotten the first bunt down, they never would have gotten the runner home.  In other news, Johan Santana not getting run support against the Braves is a tale as old as time. Well, a tale as old as his time in the National League, but we've all heard it by now. He deserved a better fate, but he usually does, doesn't he?
Pirates 2, Phillies 1: Zach Duke + Pirates bullpen > Roy Halladay all
by his lonesome. At least for last night, anyway. Chase Utley missed his second game in a row with "flu-like symptoms," which either means (a) that old saw about "flu-like symptoms" being a euphemism for a hangover isn't true; or (b) Utley is on one HELL of a bender.
Orioles 4, Royals 3: Nice line for Luke Scott: 2 AB, 2 R, 2 H, 2 RBI, 2 BB and 2 HR.  And hey, a Bryan Bullington sighting!  He's like that cat in the nursing home that curls up on the terminal patients right before they die. When he shows up on your roster, good night Irene.
Marlins 8, Diamondbacks 0: I hit this one yesterday afternoon, but let me just add: I have never won the "you can't come out of your room until you apologize" game with my son. It's way easier to be bad than it is to be good. I wish that weren't true, but it is.
Rays 6, Indians 2: The fundamental problem with the Cleveland Indians is that they don't have good players like David Price (6 IP, 4 H, 0 ER) and Evan Longoria (2 for 4, 2B, 3B, 3 RBI), and they have a lot of bad players like David Huff.  Don't spread that one around though — that's my scoop, babies.
Reds 5, Brewers 4: Gotta agree with Broseph Gleeman on this one: Trevor Hoffman is toast. Hate to see it go down like this, but that's usually what happens. John Wetteland is the last elite closer I can think of who left on his own two feet. Tom Henke did too. Billy Wagner looks poised to do it, and probably Rivera, but most guys have the ball taken from them.
White Sox 6, Tigers 2: Freddy Garcia was referred to in the AP game story as "the crafty right hander."  The writer has been fined $50 and ordered to take a lap after violating the clear style-book rule which specifies that only lefties can be described as "crafty." I realize this is harsh, but if we don't enforce this now we'll soon be up to our eyeballs in grizzled rookies, scrappy black guys and balls hit to the opposite field that are not described as "nice pieces of hitting." In other words: chaos.
Cardinals 3, Nationals 2: Five straight losses for Washington. Methinks they're turning back into a pumpkin. Oh, and Tyler Clippard may have seven wins, but he still stinks, so take that you Blyleven haters. Oh, wait, sorry. I thought it was December there for a second. I promised myself I wouldn't start that crap up again until December. Time and place, Craig. Time and place.
Blue Jays 11, Twins 2: Among the carnage yesterday afternoon was an Edwin Encarnacion two-run homer. I always take note of what he does in a game. Why? Because in June of 2005, I was checking into the Marriott in downtown Cleveland, and right in front of me was Edwin Encarnacion, fresh from the airport after being called up to join the Reds for his major league debut against the Indians.  He told the person at the counter his name and they handed him a big envelope with "E. Encarnacion" written on it in magic marker. They explained to him that everything he needed was in that envelope. After I checked in and started walking towards the elevator, I saw him sitting on a bench, looking through the envelope — filled with tickets and cash and all kinds of stuff — basically overwhelmed at everything.  I always sort of wished that he had gone on to a Hall of Fame career so that I could tell that story in more important settings — it could make a great introduction to a motivational speech of some kind — but I'll take it for what it is.
Rangers 8, Angels 7: C.J. Wilson and Jered Weaver each gave up seven runs in four innings and change, opening up the proceedings to a parade of relievers and rendering this the sort of game I enjoy watching the least. Look closely, and you'll likely see at least two guys from your high school in the pitchers' portion of the box score.
Cubs 6, Rockies 2: Six strong innings from Carlos Silva, who remains unbeaten. I haven't seen a career turnaround like this since Bobby Shelton met Harry O. Tophet.
Athletics 6, Mariners 5: Kurt Suzuki got the RBI single in the 10th to win it, but it was made possible by some sloppy play by the M's and some heads up base running by Cliff Pennington. Specifically, a poor throw back to the infield allowing Pennington to advance from first to second on a fly out, and then a wild pitch allowing him to take third. Sixteen hits for the A's offense, which is their season high.
Dodgers 7, Astros 3: Not having Andre Ethier around is a lot easier when the Astros are the opponent. Manny Ramirez, James Loney and Casey Blake each had two RBI.