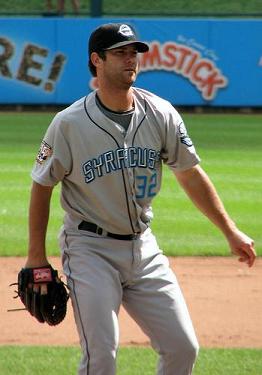 This is the first and probably the last time I'll ever write about Mike Gosling on this blog, but I was in the crowd last night to see him pitch and I feel very grateful for having been there.
Unless you're a hardcore Diamondbacks fan, you probably have no idea who Mike Gosling is. Short version: he's a pitcher who came out of Stanford and was taken by Arizona in the second round of the 2001 draft. After a year of decent work in double A, Gosling seemingly met his match in the Pacific Coast League, putting up three straight years of ERAs in the fives, with increasingly poor peripherals.
The Diamondbacks waived him and the Reds picked him up, where it was more of the same.  Then the Blue Jays took him and turned him into a reliever for a season only to release him. Then a half season stop with the Twins organization and finally the Indians.  There were cups of coffee here and there, but he's basically been a AAA soldier for several years.
Last night Gosling got the start for the Columbus Clippers.  I was at the game, and though Carlos Santana's two-homer, five-RBI night was the big story, Gosling pitched well, shutting out a very good Durham Bulls team over six and a third innings. He left to the polite but muted applause of the crowd, most of whom were at Huntington Park for the dime-a-dog night promotion, not the final bow of Mike Gosling's non-storied career.
And it was the final bow:  Mike Gosling announced after the game that he was retiring back home to San Diego in order to spend more time with his wife, Kim, and his 4-month-old son, Max.  He had actually made his decision before the game, but hadn't told anyone outside of team management. Maybe that was to preserve the integrity of the game. Maybe that was in case he changed his mind (though on a cold and wet Ohio night, I'm sure the prospect of heading back to the warm embrace of his family in the sunny climes of San Diego rendered a change of heart impossible). But no matter the reason, last night was it for him, and I'm glad I was there to see it.
Not because Mike Gosling was anything special as a pitcher, obviously. Indeed, as the game was happening I really didn't give him much if any thought.  But knowing now that it was his last game, I'm struck with a certain joy and wonder about it all.
How many ballplayers leave the game on their own terms? Sure, maybe Gosling's original terms were to leave the game following his 350th win and seventh World Series ring, but at some point over the past seven or eight years he likely readjusted to reality, accepting the fact that he was basically a double-A pitcher kicking around triple-A baseball and that the future held no further glory for him.  He turns 30 this fall, and he knows the score. Last night the score for him was zeros. However sad it is to walk away from something you've done since you were a kid, leaving like that rather than being released by one team and shunned by all the rest has to make the process a bit sweeter.
As does the reason for leaving.  As I write this, Mike Gosling is probably sitting in Port Columbus International airport waiting for a plane that will take him home to San Diego to see Kim and Max and to begin his new life.  How nice is it that he left his old one walking as tall as anyone could reasonably hope under the circumstances?  How nice is it that someone — in this case a Columbus Dispatch reporter — made a note of it so that we could know of this small but, in its own way, beautiful moment?