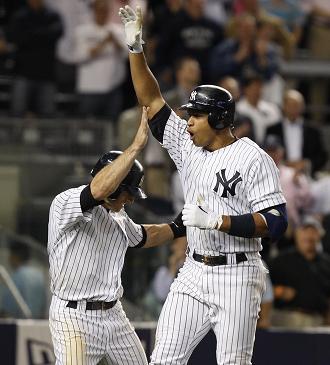 ESPN New York's Ian O'Connor on last night's game-tying homer from Alex Rodriguez:
With the ball streaking like a comet across the black Bronx night,
making Yankee Stadium quake like the old place always did, Alex Rodriguez flipped his bat, shot a look-at-me-now stare into the home
dugout, and left this baffling question in his wake: Why
did he ever feel compelled to use "boli" in the first place?

Rodriguez
was never a slugger who needed to wage a war of back-room pharmacology.
Naturally big and fast, born with an innate ability to get the barrel
on the ball, A-Rod didn't have to turn the game of big league baseball
into a battle of my underground chemist against yours.
Look, you can feel however you want about Alex Rodriguez and you'd be totally accurate to say that he broke the rules of baseball because he did. But if you're going to take the "A-Rod is great and never needed steroids" line today, you probably need to walk your A-Rod "cheated the
game, cheated the fans and cheated himself" rebop from two months ago back a little bit.
Why? Because saying in March that he was a "chemically-altered fraud" whose "steroid
stain will last forever" and saying in May that "see, he never really needed steroids after all" is a tad inconsistent. PEDs either helped him or they didn't, and you don't get to choose which one of those things you prefer to fit the story you're writing on any particular day. If they did helped A-Rod as much as O'Connor said they did back in March, he pretty much has to accuse A-Rod of still doing them to support his
"A-Rod is teh awesome!" story.  If they didn't, he pretty much has to admit that he was spewing baseless PED invective for the past several years.
Of course, I'm not going to hold my breath here waiting for Ian O'Connor to admit that maybe, just maybe, PEDs aren't as bad as he usually likes to pretend they are. But I would ask that if he's going write an otherwise fine story about an exciting ballgame he refrain from interjecting a totally beside the point and quite apparently inconsistent steroids narrative into the mix.