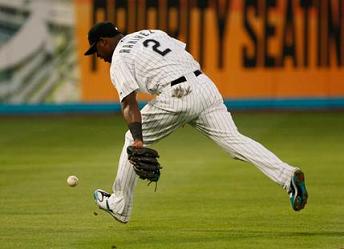 UPDATE: Here's a transcript of Ramirez's whole session with the media and additional comments from "clubhouse leader" Wes Helms.  Quick take: why would a reporter ask Ramirez if he had lose respect for Fredi Gonzalez? Sure, Ramirez could have answered it any way he wanted to, but that's awfully leading, isn't it?  That aside, it's not like Ramirez was taken out of context or anything.  What started as a booted ball and a a moment of hustle impairment has revealed what is apparently a deeply divided clubhouse.  Stay tuned, kids, because this is about to get interesting.
10:50 A.M. OK, it was bad enough that he got sent packing from last night's game, but now Hanley Ramirez is just going nuts.  According to Joe Capozzi of the Palm Beach Post, Ramirez told reporters Tuesday morning that he "lost some
respect" for manager Fredi Gonzalez after Monday's benching.
To which I'd respond: if you had any respect for him to begin with, Hanley, you wouldn't have loafed after that ball to begin with. Our respect for you, however, is plummeting quite quickly, thank you.
Ramirez also
said that Gonzalez
doesn't understand playing through
pain because "he never played in the big leagues," which may as well be code for "I don't feel like I have to listen to anything my manager says because that excuse applies to absolutely everything."
According to Capozzi's game story last night, Marlins' owner Jeff Loria was in Fredi Gonzalez's office after the game.  How happy would Loria be if he had a legitimate excuse — say, clubhouse chaos — for trying to unload Hanley Ramirez's $70 million contract?
And yes, I realize that would be monumentally stupid form a competitive point of view. But it is Jeff Loria we're talking about here, and he's not exactly immune from letting financial considerations trump competitive ones.  You can't tell me that the thought hasn't crossed his mind.