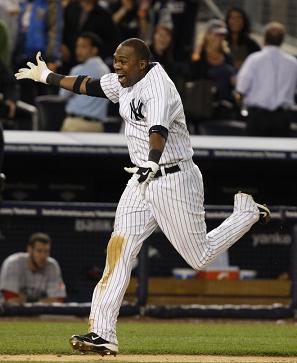 Yankees 11, Red Sox 9: Papelplosion.  The Yankees blew a 6-1 lead and found themselves down 9-7 nearly four hours and eight and a third innings into it when A-Rod hit a two-run homer to tie it and Marcus Thames hit a two-run homer to win it. Papelbon had a day off on Sunday, but one can't help but wonder if that 2+ inning outing on Saturday night was still lingering in that right arm of his.
Rays 4, Indians 3: The game ended on a squeeze play in the 11th, which is pretty sweet. I didn't see any of this, but I did watch their AAA teams play each other down in Columbus, with the Clippers beating the Durham Bulls 5-1 on the strength of a grand slam and a solo shot off the bat of Carlos Santana. That there is a young man who probably needs to be in the major leagues right now.  If you're curious, here's a picture of Columbus, Ohio's Huntington Park with my bald head and sideburns, stage right, taken by Will.  Not bad for an iPhone.
Phillies 12, Pirates 2: I watched that Clippers-Bulls game with Baseball Prospectus' Will Carroll, who was in town for Will Carrolly things. During the game I was complaining about Nate McLouth and made some reference to the trade with the Pirates that brought him to Atlanta in exchange for Charlie Morton. Will says something to the effect of "Morton throws hard."  The score of this one flashed up on the out of town scoreboard. Then Will, after taking a thoughtful pull of his beer, says "didn't say he threw well. Just hard."
Padres 3, Giants 1: I guess the Padres just have the Giants' number. That's seven in a row this season for San Diego against the Giants.  Random game story factoid of the night: "Bruce Bochy, who still has an offseason home in suburban Poway, was
bummed because he might have to have his 16-year-old Labrador
euthanized."
Diamondbacks 5, Marlins 1: Edwin Jackson is always good for pulling some otherworldly performance out of his back pocket amidst a string of terrible starts and last night was a fine example: eight shutout innings of 12-strikeout ball. Add Hanley Ramirez getting benched for not hustling after a ball he kicked out into the outfield and you have a night the Marlins would prefer to forget.
Reds 6, Brewers 3: Johnny Cueto follows up his one hitter with seven innings of one-run baseball (7 IP, 7 H, 1 ER, 7K). From the game story: "A fan wearing a Reds batting helmet and a red shirt with a "1" on the
front danced in the second row behind the dugout when the team took the
field for warmups, yelling: "First place! First place! First place!" The
scoreboard made a point of emphasis to show the division standings,
drawing cheers."  Glad to see Cincy acting like they've been there before. Sheesh.
Twins 8, Blue Jays 3: Justin Morneau went 3 for 4 with two homers a walk and four RBIs. Morneau is having an absolutely sick season, by the way. .375/.491/.710 with 11 homers and 29 RBI, which puts him on pace to [quickly figuring] . . . be totally awesome.
Mets 3, Braves 2: If you tell me that (a) the Mets are in town; and (b) Derek Lowe actually pitched OK, I would have bet between 50 and 75 dollars that the Braves would have won, but alas it was not to be. Mike Pelfrey had a good night and either bad luck or bad baserunning by the Braves got him out of a couple of jams that should have been more trouble than they were.
Rangers 4, Angels 3: Scott Kazmir gave up four runs and nine hits in seven innings in what was probably his best outing of the
season, even if it was in a losing cause. This was the first time these two teams have faced each other all year, which is rather astounding to me.
Cardinals 6, Nationals 2: The fact that the Cardinals scored four runs in the first inning probably means that Albert Pujols is going to be batting cleanup for the foreseeable future.
Royals 4, Orioles 3: An ugly game between bad teams in horrible weather. Ned Yost: "We have played the last three, four nights in muddy weather and it's
been sloppy out there. I'm coming to find out we're pretty
good mudders."  I hear his mother was a mudder. Yeah, this baby loves the slop, loves it, eats it up. Eats the slop. Born
in the slop. His father was a mudder too.
 
Cubs 4, Rockies 2: A walkoff two-run homer for Aramis Ramirez in the bottom of the 11th.  Welcome to the party, pal.
Dodgers 6, Astros 2: John Ely has faced 84 guys in a row without walking anyone. Last night he threw first pitch strikes to 20 of the 25 guys he faced. Pitching coaches all over baseball are walking around their clubhouses today saying "why can't you be more like Johnny?"
Athletics 8, Mariners 4: Gio Gonzalez on the Athletics breaking their five-game losing streak: "Sometimes I psych myself out. I didn't even realize we
were in such a long losing streak."  He later failed to add: "It feels 'out there.' A major rush.  I mean it doesn't just feel 'out there' but it feels out there."
White Sox vs. Tigers: Postponed:
Let the rain kiss
you.

Let the rain beat
upon your head with silver liquid drops.

Let the rain sing you
a lullaby.

The rain makes still
pools on the sidewalk.

The rain makes
running pools in the gutter.

The rain plays a
little sleep-song on our roof at night–

And I love the rain.
— Langston Hughes, a man who, for all his talents, obviously wasn't a big baseball fan.