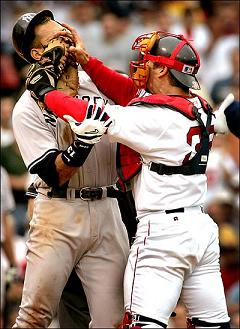 How often do the Yankees face the Red Sox and have the mere fact of the matchup not be the biggest thing going that week?  That's certainly the case this week as, at least by my reckoning, the two-game tilt with the Sox ranks third or maybe fourth on the Bronx Bombers' hype-o-meter.  Above it:
Coming to grips with the Mariano Meltdown yesterday.  Like I said earlier today, I think Mo will be just fine — we all have bad days at work sometimes — but you can bet that the team will be asked many more questions about yesterday's aberration before tonight's game than they will about the Red Sox;
The Rays series. The Yankees took two of three from the Rays back in the first week of the season, but that was before we all got our minds around how good the Rays are.  Two games against the team you're trailing in the standings > two games against a scuffling Red Sox squad, and that's the case no matter how much lip service the Yankees pay the Sox today and tomorrow;
The Subway Series kicks off this weekend with three games at Citi Field.  Maybe the players are above it all, but the press and the fans in New York are probably wondering if the Yankees can deliver a knockout blow to the Jerry Manuel era with a decisive series. That is, if Manuel even survives the week.
So yes, Yankees-Red Sox is a big deal and, usual ESPN-bashing notwithstanding, it is probably the best matchup going tonight and thus worthy of the national broadcast (that is, unless San Francisco and San Diego want to move their game to 4:05 PM Pacific Time). 
But it ain't the kind of big news it usually is, and probably isn't even the biggest thing on the Yankees' mind this week.