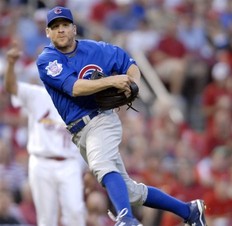 34-year-old Ryan Freel has chosen to retire after playing in nine games in the independent Atlantic League, according to Mike Ashmore of the Hunterdon County Democrat.
After the Reds dumped his contract following the 2008 season, Freel washed out in the Orioles, Cubs and Royals organizations last year, hitting .193/.290/.216 in 88 at-bats.
While he never established himself at any position, Freel was a very valuable player for the Reds from 2004-06. He hit between .270-.280 with OBPs in the .360-.380 range all three seasons and stole a total of 110 bases.
Freel, though, had big problems staying healthy after 2006. It was certainly in part due to his reckless style of play on the field, yet there were also concerns about how he was handling his affairs off the field. Freel was charged with DUI in 2005, and he was arrested in 2006 on disorderly intoxication charges.
Freel finishes his career with a .258/.354/.369 line and 143 steals in 1,983 at-bats.