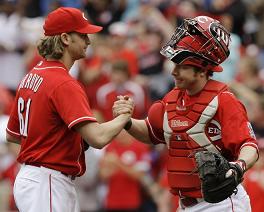 Conventional wisdom holds that one does not get too excited about anything going on in the standings before Memorial Day, and that's still two weeks from now.  Still, how can you now get a kick out of the Cincinnati Reds sitting in first place?
Especially that first place came as the result of taking two of three from a St. Louis Cardinals team that everyone — myself included — figured would have an easier path to a division title than anyone in baseball.  Sure, I and a lot of others tabbed the Reds as their trendy little "they might surprise" pick, but we figured that a surprise from the Reds might be that they come within five games of the Cardinals. Not that they'd pass them up.
But like I said: it's early. The current surge has had a lot to do with facing cold teams like the Pirates and a suddenly-skidding Cardinals squad. They've gotten great starting pitching — three complete games last week — and sparkling defense as of late that, while obviously indicative of talent, has been so good that even the most optimistic Reds backers can't expect it to be sustainable.
But of course all good teams go through stretches like this. The key to staying in contention all year is avoiding skids, which is something the Reds — usually a respectable team on paper, but subject to swoons — haven't been able to avoid in recent years.
But at the risk of reading too much into a good week, I'm going to say they can avoid it this year.  Defense isn't as streaky as hitting can be and Bronson Arroyo and Homer Bailey —  two guys who have been beat up a bit in the early going — are starting to pitch to their potential.
The Cardinals will go back to winning soon, but I don't see the Reds returning to losing.  There are just too many bad teams in their division to feast on, and I think the Reds will play continue to play good baseball and, at the very least, remain in the wild card hunt all season.