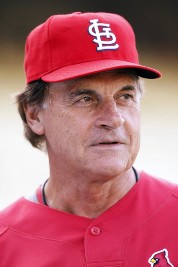 Earlier today Bernie Miklasz of the St. Louis Post-Dispatch analyzed the Cardinals lineup and noted that Matt Holliday is having a hell of a time hitting with runners on base.  Bernie suggested that, in light of this, perhaps Tony La Russa should bat Albert Pujols cleanup and put Holliday in the three-hole.  Of course, Pujols hasn't hit anywhere but third for seven years, so it was more academic than anything.  Bernie's conclusion:
"But if [Holliday] can get on base ahead of Pujols, then the Cardinals might have
something going. Just an idea. Chance of Tony La Russa implementing
it: zero."
And in today's Cardinals lineup: Matt Holliday bats third, Albert Pujols cleanup.
If it was any other guy I'd wonder if he wasn't reading the papers too much. But Tony La Russa is probably the most stubborn manager in baseball today, so either this is (a) grand coincidence; or (b) La Russa read Bernie's column and made the change with explicit instructions to Pujols to strike out four times tonight in order to show the media who's boss.