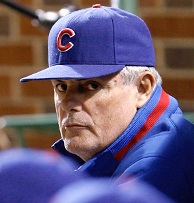 The thought hadn't really crossed my mind until I read Ken Rosenthal's column suggesting just that this morning:
It's not Piniella's fault two of the team's biggest offensive threats,
third baseman Aramis Ramirez and first baseman Derrek Lee,
are under-performing. It's not his fault Hendry provided him
with an inadequate bullpen.

It's certainly not his fault the
vibe around the Cubs is forever gloom and doom, which happens when you
go more than a century without winning the World Series. Still,
Piniella played a role in many of the Cubs' major roster decisions — he
always wants what he doesn't has, worrying little about future
consequences.

To his players, he remains a demanding, glowering
presence, if less outwardly emotional than in the past. The
Cubs, much as they appear to need a collective kick in the rear, might
benefit more from a little stress relief.

They could stand to
relax.
Rosenthal isn't out on a limb by himself here. At least one Cubs blogger — Al Yellon at Bleed Cubbie Blue —  thinks Piniella should go too. Like Rosenthal, Yellon is basically arguing mood here as opposed to citing any concrete examples of what Piniella is doing or not doing that is leading to Cubs losses.
I'm having a hard time getting on board with this. The Cubs' primary problem is that their offense depends on older guys in Lee and Ramirez who are having bad seasons and may be entering their final career descent before our very eyes. Their secondary problem is that their bullpen stinks. I don't see how either of these things will change if Piniella were to magically disappear.
Both Rosenthal and Yellon seem to base their arguments on mood and tone and all of that, but is that really a problem in Chicago? Sure, it's gloomy because they're losing, but that's a symptom, not the disease. Is there any suggestion that Piniella's overall temperament is contributing to the losing? And if you believe in the manager-as-motivator theory, shouldn't Lou actually be credited for, say, Alfonso Soriano and Kosuke Fukudome's strong starts?
Finally there's the matter of Lou's successor.  Most people agree that, ultimately, it will be Ryne Sandberg, who currently has the helm down in Iowa.  It makes no sense to me to either (a) install him now, after such a rocky start to the season, preventing him from setting the tone for a new administration the way he could in spring training; or (b) name someone else interim manager with so much season remaining, potentially complicating the Sandberg ascension.
What if, as Rosenthal suggests, the Cubs name bench coach Alan Trammell interim manager and the Cubs go on a nice run? There's no bigger Alan Trammell fan on the planet than I am, but do the Cubs really want to put themselves in position where they feel obligated to go all-in with him going forward or, alternatively, throw him over the side despite the improvement and have Sandberg start amidst controversy? And if Trammell doesn't rally the troops, what was the point in canning Lou in the first place?
I understand that people want to do something in Chicago, but it doesn't make much sense to me to fire Lou Piniella. There's no upside to it and plenty of down.