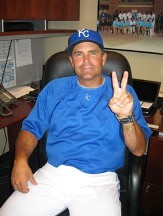 Former Royals manager Trey Hillman was on WHB radio in Kansas City over the weekend talking about the end of his tenure with the Royals.  I thought Hillman's words, upon being asked how it felt to manage his last game despite knowing he had already been fired, were rather sweet and poignant:
The thing that kept clicking in my mind was the appreciation that I
had for the opportunity in the first place, looking around the stadium,
the appreciation for the big league atmosphere.  It was a perfect day
for it to be kid's day out there quite frankly.  I mean there is a
little irony there because having grown up in Arlington, Texas, and
having an opportunity to grow up in a major league ballpark and still at
forty-seven years old a major league manager and remembering the
excitement of being at a ballpark and how oblivious I was as a kid on
most days I was competitive and most days it was the enjoyment of being
at the ballpark.  I didn't really care whether our team won or not.  I
was there to support them whether they won or they lost.  It was an
appreciation that I have gotten to do what I have done for the last
twenty years in little, bitty A-ball towns, and AA venues and AAA across
the ocean in Japan and certainly here in Kansas City.
Hillman's words put me in mind of a post from River Ave. Blues' Benjamin Kabak last month, in which he introduced the concept of "Zen Baseball."  I don't know that I'd recommend that the manager of a Major League baseball team approach the game from such a mindset, but it's kind of nice that Hillman got to go out with the pleasant feeling of a (relatively) stress-free day at the park as oppposed to a quick meeting in the GMs office and a quick exit out the back door.