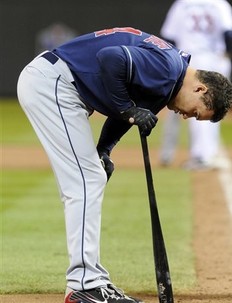 The bruised knee that knocked Grady Sizemore out of Sunday's game and is sidelining him again Monday might have been the best thing that could have happened to the 27-year-old center fielder. He may not want to, but he definitely needs to sit back and watch a couple of games.
There were reasons to be concerned about Sizemore headed into this year, most of them having to do with his surgically repaired left elbow. He didn't perform at nearly his usual level before shutting it down in 2008, and it remained to be seen whether his power would come all of the way back after his arm problems.
But then Sizemore went and hit .364/.500/.614 with just five strikeouts in 44 at-bats this spring. Questions answered, or so it seemed.
Sizemore, though, has been positively terrible this year. He's hitting just .211/.271/.289 through 128 at-bats. He's drawn a mere nine walks after working 12 in spring training, and he's struck out 35 times. He's also without a homer, though he did hit his first earlier this month on a game that was unfortunately halted and postponed due to rain.
If it were just the power, that'd be one thing. However, Sizemore's offensive game has completely fallen apart. Most players with weaker-than-expected batting averages this time of year are probably experiencing some poor luck on balls in play. Sizemore, though, is hitting a reasonable .287 there. When he hits a liner, it's generally falling in. It's the simple act of making contact that's giving Sizemore trouble.
Just look at Sizemore's plate discipline chart over at Fangraphs. Even if you don't know what the numbers mean, you can see how consistent Sizemore was in previous years and how much things have changed this season. Most notably, Sizemore is swinging at pitches outside of the strike zone far more often than ever before. He's at about 180 percent of his career rate there.
But that's not to say he's suddenly swinging at everything. He's actually swinging at fewer pitches inside the strike zone. While his overall swing rate is up a bit, it's still pretty modest. But since he's swinging at bad pitches, his overall contact rate is way down.
Of 178 qualified hitters, Sizemore ranks 161st in the percentage of swings in which he makes contact. He's at 73.4 right now. Sizemore has always struck out plenty, in part because he takes plenty of pitches, but in a typical year, he's right around the 50th percentile when it comes to making contact.
If I ran the Indians, I'd politely request that Sizemore undergo an eye exam to see if anything has changed there. If that's not the problem, then, yeah, Sizemore needs to kick back and watch a few games. Maybe the power isn't going to come back anytime soon, but he can stop getting himself out.