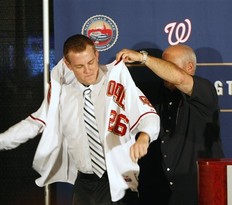 According to Ken Rosenthal of FOXSports.com, the Nationals have purchased the contract of relief prospect Drew Storen from Triple-A Syracuse.  He will meet up with the team on Monday in St. Louis.
Storen unsurprisingly beat fellow 2009 first-round draft pick Stephen Strasburg to the big leagues.  He kicked off this season at Double-A Harrisburg and posted a 0.96 ERA, 11/1 K/BB ratio and a 0.64 WHIP in 9 1/3 innings before earning a promotion to Triple-A.  In Syracuse he surrendered only one earned run in 6 2/3 innings.  The 22-year-old will likely serve in a setup role for the Nationals for now, but projects as a possible future closer.
Strasburg has been equally impressive, but the Nats have more reason to prevent him from reaching Super Two status.  Storen is a reliever and will never command the kind of money that Strasburg one day could.